School Canopies & Lean to Canopies
SAS Shelters manufacture a range of quality school canopies, including cantilever, curved and lean to canopies. We custom build all our school canopies to suit our customer' requirements. After an initial site survey we will discuss and finalise the design and what would suit the building.
All our School canopies make excellent area's for play time, outdoor teaching, parent waiting areas and walkways. Our cantilever canopies can be manufactured from GRP moulding, steel or aluminium sections.
Depending on the size and projection required, and where the canopy is fitted, a canopy supported by legs may be more suitable. These can either be free standing or directly buried into the ground. We also offer the outdoor and lean to canopies in wood, all with the option to be fitted with different combinations for example glass, polycarbonate and log lap. They also have the option to be fitted with stand alone seating or custom built bench seating.
As well as our selection of cantilever and lean to canopies, SAS Shelters also offer a range of sail shades in different types of fabrics, and variety of colours which offer excellent sun protection against the harmful UV Rays, as well as brightening up any playground area.
The Benefits of School Canopies
Keep students protected from wind, rain and harmful UV rays
Encourages more outdoor play and exercise
Create more opportunities for outdoor learning
Can reduce the temperature in class rooms, which can help to reduce energy consumption
Can improve the appearance of buildings within school grounds
Contact SAS Shelters today for a Free Site Survey & No Obligation Quote - Get In Touch
School Canopies
Why Choose SAS School Canopies
At SAS Shelters, we use our years of experience to advise on the best materials to suit the structure - with the minimal amount of support which doesn't impede on the space underneath the canopy whilst still offering the strength required to meet all the snow and wind loading regulations.
On larger custom built school canopies, full design drawings are supplied, which can be superimposed on to a photograph of the School's building. This helps our customers fully understand what the finished product would look like so any alterations can be made before manufacture commences. We would then assist the school through the planning process and issue all the required drawings to the planning office for approval.
For Customers who want something retractable, offering protection against environmental elements when required, our range of commercial awnings make an ideal solution. We offer electric and manual operated awnings which come with a 5 year guarantee.
For more information on any of our school canopies or to arrange a free no obligation site survey, please contact SAS Shelters today on 01582 585206.
Our Service Includes
Free site inspection and survey
A detailed consultation on the best solution for your premises and the best materials to use
Full design drawings and artist impression of how it will look in your school
Assistance with the planning process and all required documents submitted to the planning office
Full installation with the minimum amount of fuss or disruption
Can't find the perfect canopy? We offer a made to measure design service - Get In Touch
Canopies In The Education Sector
Nursery School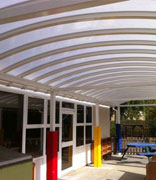 SAS Shelters have provided many canopies and shelters in nurseries and pre-schools. Our range of nursery school canopies are available in a wide range of bright colours to suit any style of nursery and can also come with post pads to give toddlers and pre-school children extra protection.
Primary School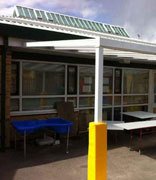 We have supplied a wide range of products in primary schools including school canopies for outdoor learning, playground sail shades and covered walkways. Our range of buggy shelters are also popular in primary schools as well as our waiting shelters for parents picking their children up from school.
Senior School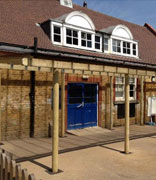 The school shelters and canopies we supply to senior schools tend to be more functional and robust structures, in order to meet the demands of a senior school. We have a wide range of cycle shelters and bike storage which are also quite popular in senior schools for teachers and students alike.
College / University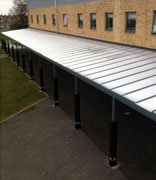 The canopies we install in this sector need to be very robust and hard wearing, as well as being designed to fit in with the style of the campus. Our covered walkways are very popular in colleges and universities and we have also supplied a number of lockable cycle racks, waiting and smoking shelters.
Case Studies and Testimonials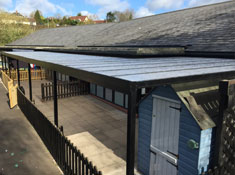 Case Study
We have recently completed a new school canopy installation at the Goodrich Church of England in Herefordshire, which was custom designed aluminium canopy to suit the specific requirements of Goodrich Primary School.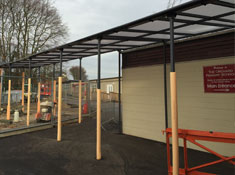 Case Study
SAS Shelters have designed, built and installed a custom 30 metre walkway, an 8 metre midi cycle shelter and three double-sided scooter racks for Orchard School in Watford, in collaboration with Balfour Beatty.
Testimonial
Goodrich CofE Primary School
The children and staff are absolutely thrilled with our new outdoor canopy that provides a fit for purpose learning environment without any compromise. I had full confidence in SAS Shelters from our first meeting. Once onsite, the team were efficient, friendly and appropriate with staff and maintained a safe and tidy site at all times.
Useful Information
Contact SAS Shelters today for a Free Site Survey & No Obligation Quote - Get In Touch